Online Service
Contact Person:

Mr. Jason
Five Best Iphone Gimbal Stablizers On The Market
Since smartphones have been at present already universal,it`s almost impossible for us to live without smartphones.All the functions of a smartphone have been greatly improved ,which also goes for the camera.As a result,many people no longer purchase an expensive camera for taking photos or shooting videos.Instead ,they are sticking with their smartphones.Well,to eliminate the vibration generated by shaking hands when shooting a video,you may need a Handheld Gimbal.
There exsits a large selection of handheld stabilizers in the market,what should we consider about when choosing a handheld gimbal?The price? The Quaility ? The ergonomics? My answer is all these above.Today i`m listing 5 gimbals i think are most competive and worth buying ,in addition, i`ll explain them one by one.(In no particular order)
| | | | | |
| --- | --- | --- | --- | --- |
| Model | Weight | Size | App | Price |
| Osmo Mobile | 300g | 120*90*280 mm | yes | $299 |
| Smooth Q | 400g | 118*105*285 mm | yes | $139 |
| Vimble c | 420g | 116*108.85*245 mm | yes | $139 |
| Wewow Fancy | 200g | 43.5*23*113 mm | no | $98(one axis) |
| JJ-1S | 300g | 130*100*250 mm | no | $99(2 axis) |
DJI OSMO MOBILE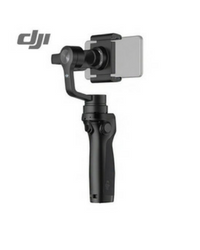 As is known to us all,dji is a drone maker,which is the biggest and best drone company in this industry. So,to some extent,this gimbal is the representative of the most advanced techniques in building a gimbal.
Strengthes:
Without any doubt,DJI osmo Mobile is the most well-built and best detail-disposed gimbal among the five gimbals,it has a great grip feeling,quick and easy response,a lot of fancy functions,such as active track,timelapse etc.Most importantly,it performs good and keep a decent balance when shooting videos or live streaming.
Weeknesses:
Ok,the price of DJI OSMO MOBILE is not cheap,well,it`s to some extent reasonable for the quality.Another problem is that you have to download the app and connect your smartphone to this gimbal via bluetooth,otherwise you can`t even use it.Also, this gimbal can easily go crazy if you move fast or handle it at an extreme action.In addition, it can be struggling when you want a vertical angle ,for which you have to hold the body horizontally.
SMOOTH Q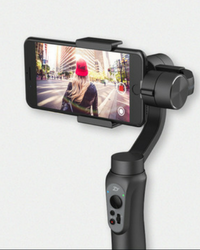 Strengthes:
This gimbal maybe the best-selling handheld gimbal in the past 3 months,not only for its reasonable price,it performs really good and it realizes almost all the functions that OSMO DJI does.In addition,Smooth Q supplies a 12h-runtime,which is very important in a day-long shooting task.
Weaknesses:
The same situation as DJI,you have to turn the clamp by 90°to achieve a vertical shooting mode.Still,intense motions or sudden twists may cause disorder.
Vimble c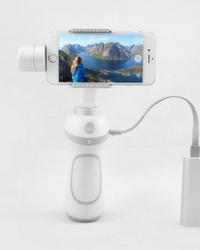 Strengthes:
Ergonomic design gives you a very comfortable handle experience, stylish appearance and streamlined body apeal to large numbers of young generation,especially girls.Smart face tracking and multiple useful functions on the app makes it more interactive.
Weakness:
Actually,Vimble c is the same price as Smooth Q,but Smooth Q sells much better than Vimble c. During the test , we found that Smooth Q is better than Vimble c in stability and precision when working and smooth Q is designed more meet the taste of wester n aesthetic.
Wewow Fancy: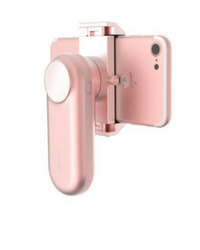 Actually, this is a one-Axis Gimbal,quite easy to use,8h runtime,compact and portable. Well,since it`s a one-axis gimble, only 2 modes are available,complex shooting angles are not permitted.Due to its small size,it turns out ro be more popular among the young girls who are keen on live streaming.
JJ-1S: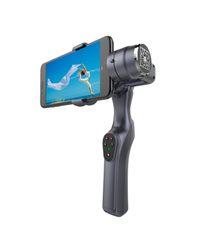 Strengthes:
JJ-1S is a 2-axis gimbal,it performs extremely stable in strenuous activity. Though almost the same price as Wewow Fancy,it provides more functions such as Pitch mode,following mode,locking mode and vertical shooting mode.Speaking of vertical shooting mode,you just need to press one button to achieve the vertical angle to roll videos or take pictures rather than turn the clamp by hand like Smooth Q. 30% cheaper than Smooth Q, JJ-1S does worth the price.
Weakness:
As a 2-axis gimbal, JJ-1S lacks the roll axis,which as a result leads to a painful rotating shoot.In addition,this gimbal comes with no app,so functions like face tracking and timelapse are not available.
Overall,gimbals are varing from many aspects,the most important thing is to find out what you really want,take your budget into consideration,then you will make the right choice.