Deeper Smart Sonar Pro Plus Fishfinder
This Deeper Smart Sonar is a part for Fishing Drones Ideafly Fishing Drone Poseidon480, IF1200S and Mars350. Attach the Sonar Pro Fishfinder unit to a drone, boat or fishing rod and it beams the information back to the handheld display unit. Smart Fish Finder displays the depth of water in meters, plants and has an audible alarm when detecting fish.
The ultimate in smart sonar fishing, the Deeper Smart Sonar Pro+ uses integrated GPS to turn your Deeper into an amazing mapping device. Boasting a wifi connection that enables great range and huge data transmission, what sets the Pro+ apart is its integrated GPS. This enables it to create real-time bathymetric maps of the site you`re fishing, allowing you to pinpoint exact features in a way that was only previously possible using boat-mounted consoles. These maps can be saved and shared, and are available online and offline. With an 100m / 330 ft range and a scanning depth of 80m / 260 ft, this GPS enabled, map-making device is ideal for the most demanding anglers and the most extreme conditions.Main Features : GPS enabled mapping, incredible casting range and data transmission. Best option for : professional anglers, extreme fishing.
GPS Castable Sonar

Pinpoint your catch with ease thanks to internal GPS receiver and offline mapping feature. PRO+ contains a high accuracy internal GPS receiver that enables to map water bottom contour features and fishing spots by creating bathymetric maps even while fishing onshore. This allows you to examine underwater conditions of the entire fishing location to determine the best opportunity for optimum fish bite. Boat Mode bottom contour mapping is also available.
Real Time Bathymetric Mapping

Offline Maps feature facilitates the underwater exploration where you can identify depth transitions with gradually shaded colour changes, and overall navigation. All bathymetric maps can be archived and accessed at any time to improve fishing location efficiency, enabling you to create layers of unlimited information and develop your own significantly accurate maps. When in need use it to navigate yourself and your crew out of watery and wild surroundings. All area maps are free to download when using Deeper App.
Internal Wi-Fi access point

You don`t need a Wi-Fi internet connection or mobile data at your fishing spot! The Deeper device has an internal Wi-Fi access point that you can connect on your smartphone or tablet. All you have to do is to turn on Wi-Fi on your smartphone and connect to Deeper access point. You can connect your Deeper device in any place of the world even the rainforest of Amazon.

Important Notice: If you are experiencing the shorter connection range switch off the Mobile Data or/and Wi-Fi Assist on your smartphone. No cellular signal nor data usage is required when using Deeper device.
Color Mode

Choose the best suitable screen color mode corresponding to the time and brightness of day. The Classic Screen Color Mode has a carbon background and provides a full-scale colour palette to identify overall underwater action. Where green indicates underwater vegetation, orange to yellow scale show fish (the more intense yellow the stronger the sonar signal), dark brown to orange scale refers to a bottom (the more intense orange the stronger the sonar signal), blue points out to a water surface. Whereas Day/Night Screen Color Mode contains enhanced colour palette designed specifically to increase target separation and reduce underwater interference. Both day and night modes do not distinguish vegetation or fish, they`re based on the intensity of the sonar signals as it is typical for professional boat equipment.
Other Significant Qualities

PRO+ has all the information-packed features of the PRO – and more! See only what you need by adjusting your device sensitivity. Lower sonar sensitivity for muddy water to filter out image distractions and choose high sensitivity for crystal clear water conditions to set your eyes even on the smallest underwater action. Weighing just 3.5oz/100g and measuring 2.5ins/65mm in diameter, the diminutive device is suitable for use with standard rods and lines. The result is the highest-quality echo-sounder data available in a single, compact wireless unit.



Deeper Smart Sonar PRO+ is the best of its series

Internal GPS receiver - PRO+ contains a highly accurate internal GPS receiver that enables the device to map fishing spots by creating bathymetric, bottom contour maps when fishing onshore or off.
Extended Water Clarity - PRO+ is supplied with higher scanning resolution and extended dynamic range that respectively allows to capture smaller underwater units and enables more accurate detection of those objects.
Track Extreme Depth - PRO+ is scanning the depth from 2ft/0.5 m up to 260ft/80 m enabling you to fish in a variety of differently sized freshwaters. Without any hardship use your PRO+ in a channel or pond, large lake or even while wading in a stream.
Wi-Fi Forward - Wi-Fi range reach up to 330ft/100 m and makes PRO+ device the furthers castable sonar on the market. Wi-Fi connection enables to maximize both the distance between the PRO+ and the device user and the accuracy of data transferred to your smartphone device.



Wireless Wi-Fi Connection
Wi-Fi range 330ft/100 m
Higher scanning frequency Up to 15 scans/s allows to capture faster moving objects
Higher scanning resolution separates objects at a distance of up to 0.04ft / 1.3 cm
8x extended dynamic range enables more accurate detection of underwater objects
Onshore GPS Mode – enables water bed mapping while onshore or off.
Battery charge cycle 6 months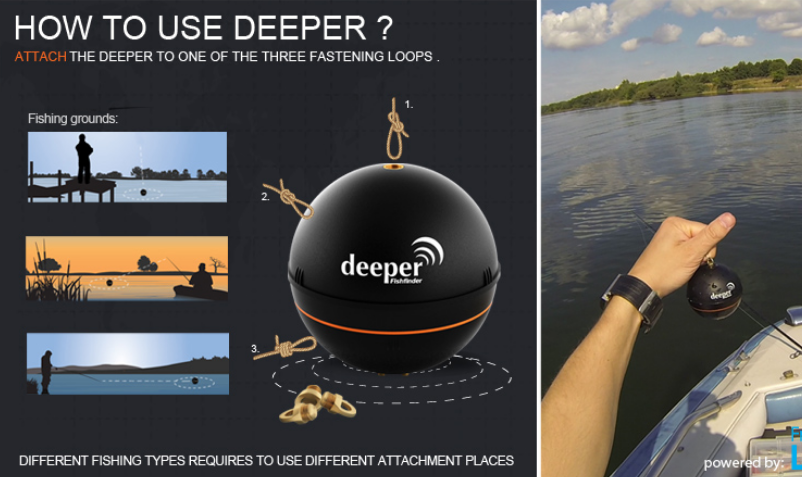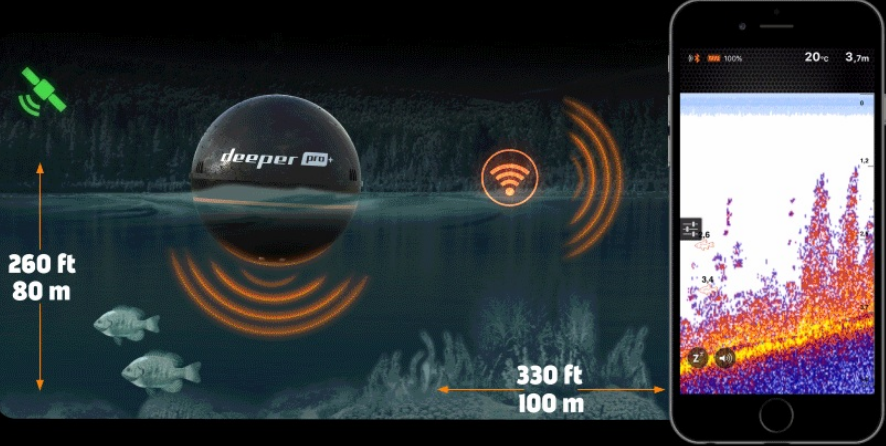 Looking for ideal Deeper Smart Sonar Manufacturer & supplier ? We have a wide selection at great prices to help you get creative. All the Sonar Pro Fishfinder are quality guaranteed. We are China Origin Factory of Smart Fish Finder. If you have any question, please feel free to contact us.
Product Categories : Drone Accessories > Other Drone Accessories